ASA – Lunch and Learn – Tuesday 3 November 12:30 – NSTS Revisions – Points of View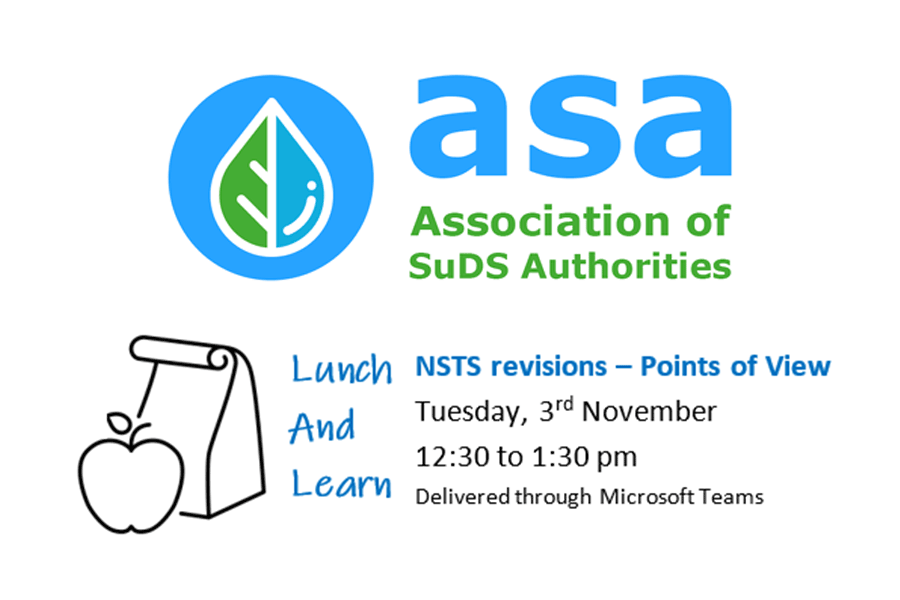 ASA invites you to join a Microsoft Teams meeting on Tuesday 3rd November chaired by Bronwyn Buntine, ASA Chair & PSG Chair for Defra NSTS Project with points of view from:
John Rumble, ASA Vice-Chair, Defra PSG Member
Martin Riches, C&A Consulting
Laura Makeating, Lancashire County Council
The Department for Environment, Food and Rural Affairs (Defra) has commissioned research to explore whether updating the English Non-Statutory Technical Standards for SuDS (NSTS) could help deliver SuDS that provide multiple benefits beyond managing surface water runoff, contributing to improved climate adaptation, health and wellbeing and better places and spaces.
The project has shown that there is support for an update of the NSTS to include multiple benefits. 'Management of water quality' was the most desired benefit not currently in the NSTS, closely followed by 'improvements in biodiversity' and 'climate resilient development'.
As a result, new standards have been drafted, including hydraulics, managing everyday runoff, water quality amenity and biodiversity.  Standards 7 to 14 in the current standards have not been reviewed at this stage.
A survey will be launched on 26 October to 15 November, inviting stakeholders to provide feedback on the suitability of these updated standards to deliver multiple benefit SuDS. The results from this survey will contribute to the evidence base for our recommendations to Defra.
It is timely that we support discussion within the membership to provide background to the project, opportunities and concerns with the new standards and implications for our role as LLFAs.
The Lunch and Learn session will be introduced by presentations by the invited speakers with workshop discussion on key areas to stimulate and inform thinking on the new proposals.
In order to set up the Microsoft Teams meeting invite please RSVP to admin@suds-authority.org.uk by Wednesday 28th October 2020.  You are welcome to share the invite with other colleagues.