About us
Formerly known as LASOO (Local Authority SuDS Officer Organisation) the Association of SuDS Authorities (ASA) can offer one voice to promote and provide consistency on SuDS Nationally.
Through discussions with Lead local Flood Authorities (LLFA's) across the country support was given to the creation of a formal association supporting the delivery of sustainable drainage. 
ASA is a member organisation whose aim is to promote and develop the use of sustainable drainage within all new developments.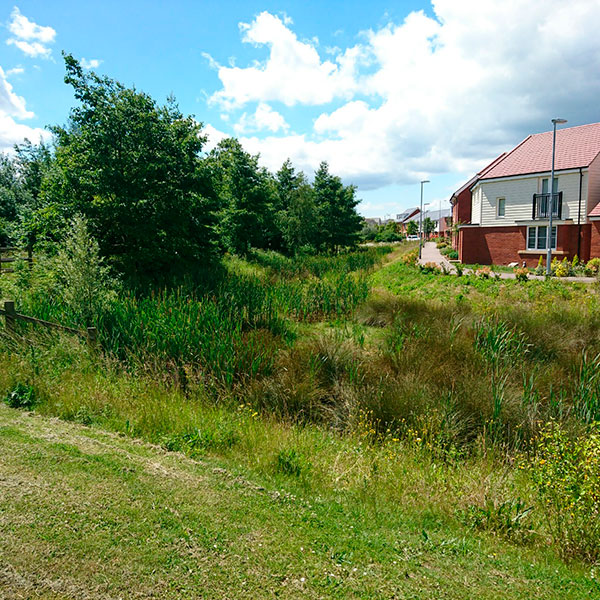 Background
In 2012 Government started along the implementation of Schedule 3 of the Flood and Water Management Act, Defra created working groups to assess matters, including National Standards for SuDS.  These groups were active until June 2015 when Government elected to pursue alternative arrangements to deliver sustainable drainage.
Many benefits were gained by the sharing of knowledge between the officers within the working groups, not least the best practice guidance to the Non-statutory Technical Standards for SuDS.
With this background of partnership working, a wider group of LLFAs were approached to discuss the need for a national association and a committee of 20 authorities first met on 23 July 2014.
Collectively this group became known as Local Authority SuDS Officer Organisation (LASOO).
The main aims of ASA:
To share and promote good practice to enhance the effectiveness of sustainable drainage.
To own and develop the guidance for the Non-Statutory Technical Standards for Sustainable Drainage Systems.
To engage with Government in developing policy and regulation for surface water management.
Bronwyn Buntine
Chair
Bronwyn is the Sustainable Drainage Team Leader within the Flood and Water Management team at Kent County Council. Bronwyn's team responds as a statutory consultee within planning, implements SuDS projects and is contributing to an EU green infrastructure project. Bronwyn has been active across Kent to promote SuDS with the development community and local planning authorities to support the team's objectives.
As a chartered civil engineer with over twenty years of experience, Bronwyn brings knowledge gained from working in consulting in England and with local authorities and consultancies in the USA and Australia to her professional work.
She has been with Kent County Council since 2011 and was involved with the Defra tasks groups for Schedule 3 and on the National Standard for Sustainable Drainage guidance. She has contributed to Ciria's Project Steering Groups for the CIRIA SuDS Manual and Integrated Water Management.
John Rumble
Vice Chair
John is the Head of Environmental Resource Planning at Hertfordshire County Council. John started work with Hertfordshire County Council in 1989 and moved into his present position within the now Environment Department on 1st March 2013.
He leads the authority's work on flood and water management including the provision of advice to the local planning authorities on sustainable drainage arrangements for new development.
John's wider management responsibilities include Hertfordshire County Councils work on sustainability, climate change, landscape, ecology, historic environment, environmental assessment, and sustainable design.
John has helped write the guidance to go alongside the government's National Standards for Sustainable Drainage and regularly contributes to CIRIA's publications.
Andrew Leadbetter
Vice Chair
Andrew is the Sustainable Drainage Manager at Peterborough City Council, he leads the team that ensures sustainable drainage is considered throughout Peterborough, Land Drainage Consents and all highway drainage including advising planning on new developments and surface water flood risk.
Before joining Peterborough City Council he worked for the Environment Agency for a little over 12 years assessing flood risk, drainage strategies and dealing with flood defence consents. Andrew also worked alongside the Thames Gateway team producing a SuDS guide for developers.
Along with several others he has helped write the guidance to go alongside the government's National Standards for Sustainable Drainage and chaired the DEFRA SuDS Charging and Funding task group. Andrew was also a member of the Project Steering Group for updating the CIRIA SuDS Manual.
James Hitching
Treasurer
James is a Senior Sustainable Drainage Officer working for Northumberland County Council, having taking up this position in 2012. Within his role at the local authority James is heading up the Council's functions as Lead Local Flood Authority for planning applications as well as other roles and responsibilities dictated by the Flood and Water Management Act. Before working for the Council, James worked for the Environment Agency for five and a half years as a development and flood risk engineer. This involved auditing planning applications and analysing the flood risk posed to and from this potential developments from all sources of flooding. James also has a BSc Hons degree in Geography from Anglia Ruskin University.
Vikki Teasdale
Secretary
Vikki is the Sustainable Drainage Team Leader at Buckinghamshire County Council. Vikki joined the council in 2015, after the commencement of the LLFA's statutory consultee responsibilities. Vikki has helped shaped Councils' approach to the assessment of planning applications in relation surface water and SuDS. Vikki leads a small team that promotes the use of sustainable drainage across all scales of development and has assisted in the delivery of county-wide guidance documents for developers.
Katherine Waters
Communications
Katherine is the Drainage and Flood Risk Engineer managing a small team at Woking Borough Council. She is responsible for embedding flood risk management practice into all council services; council projects and helping the Boroughs Residents and communities to become more resilient to flooding. Her team help deliver integrated flood alleviation schemes, flood investigations and ensures all development within the borough incorporates Sustainable Drainage techniques in accordance with planning policy. Prior to joining the council in 2013, Katherine worked in the private sector for 7 years in producing FRA's and Drainage designs for a variety of developments. Katherine started her career in the Environment Agency in 2004 progressing to a Development and Flood Risk Engineer responsible for assessing planning applications, Flood Defence Consents and analysing the flood risk from all sources of flooding that future developments may be affected by.
Paul Maddison
Membership
Paul has been the Flood Risk Manager for Wakefield District Council since 2012. His team is involved in all aspects of drainage and flood risk within the district including provision of advice on planning applications, flood investigations and working with partners to deliver schemes to reduce the risk of flooding.
Paul started his career with West Yorkshire County Council in 1980 as a trainee civil engineer. He then joined Wakefield following the abolition of the County Council in 1986. At Wakefield he was involved in the Council's programme of reclamation of former colliery sites and derelict land becoming involved in drainage and flood risk in 2006. He was originally involved in the design and construction of flood alleviation schemes moving onto all aspects of flood risk when he became team manager.
George Warren
Reference Group Chair
George is the Project Manager for the 'London Sustainable Drainage Action Plan' (LSDAP) at the Greater London Authority (GLA). George is also the past chair of the London Drainage Engineering Group (LoDEG) which represents all 33 of London's Lead Local Flood Authorities on drainage and flooding related matters.
Prior to joining the GLA George was the Flood Risk Manager at the London Borough of Hammersmith & Fulham, where he was involved in the delivery of several award-winning schemes that incorporated a wide variety of SuDS. Before venturing into Local Government he worked for a number of engineering consultancies, both in the UK and Australia, where his focus was on water resource management and flood risk.
An engineer by training, George has a real interest in ensuring that the solutions we put forward to manage todays flood risk have one eye firmly on the future and importantly provide multiple benefits to the local area. George fully appreciates the value that green infrastructure can bring to a community, and gets huge pleasure in returning grey spaces to green.