About us
Formerly known as LASOO (Local Authority SuDS Officer Organisation) the Association of SuDS Authorities (ASA) can offer one voice to promote and provide consistency on SuDS Nationally.
Through discussions with Lead local Flood Authorities (LLFA's) across the country support was given to the creation of a formal association supporting the delivery of sustainable drainage. 
ASA is a member organisation whose aim is to promote and develop the use of sustainable drainage within all new developments.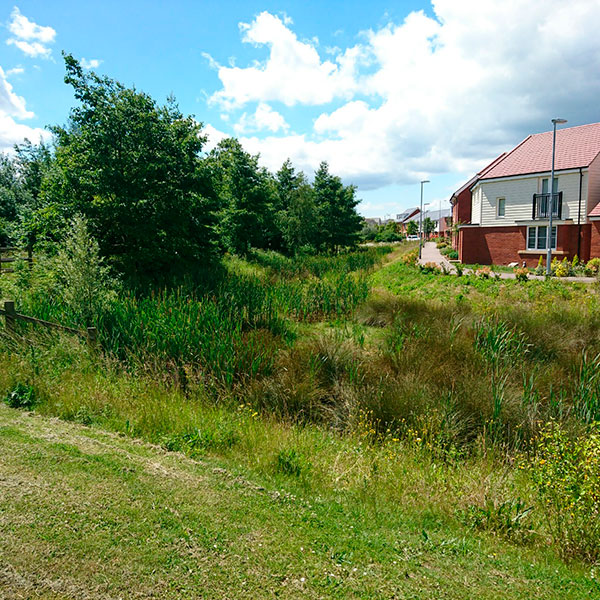 Background
In 2012 Government started along the implementation of Schedule 3 of the Flood and Water Management Act, Defra created working groups to assess matters, including National Standards for SuDS.  These groups were active until June 2015 when Government elected to pursue alternative arrangements to deliver sustainable drainage.
Many benefits were gained by the sharing of knowledge between the officers within the working groups, not least the best practice guidance to the Non-statutory Technical Standards for SuDS.
With this background of partnership working, a wider group of LLFAs were approached to discuss the need for a national association and a committee of 20 authorities first met on 23 July 2014.
Collectively this group became known as Local Authority SuDS Officer Organisation (LASOO).
The main aims of ASA:
To share and promote good practice to enhance the effectiveness of sustainable drainage.
To own and develop the guidance for the Non-Statutory Technical Standards for Sustainable Drainage Systems.
To engage with Government in developing policy and regulation for surface water management.
Katherine Waters
Chair
Katherine is the Drainage and Flood Risk Engineer managing a small team at Woking Borough Council. She is responsible for embedding flood risk management practice into all council services; council projects and helping the Boroughs Residents and communities to become more resilient to flooding. Her team help deliver integrated flood alleviation schemes, flood investigations and ensures all development within the borough incorporates Sustainable Drainage techniques in accordance with planning policy. Prior to joining the council in 2013, Katherine worked in the private sector for 7 years in producing FRA's and Drainage designs for a variety of developments. Katherine started her career in the Environment Agency in 2004 progressing to a Development and Flood Risk Engineer responsible for assessing planning applications, Flood Defence Consents and analysing the flood risk from all sources of flooding that future developments may be affected by.
Laura Makeating
Vice Chair/Reference Group Chair
Laura is a Principal Flood Risk Officer in the Flood Risk Management Team at Lancashire County Council. Following the achievement of first class degrees in both Geography BSc and Town & Regional Planning MCD, Laura began her career at Lancashire in 2011 as a planning officer specialising in environmental issues, before moving to flood risk management and leading the County Council's work on SuDS and planning. It was in 2013 that Laura first got involved in what was to become ASA.
After five years working as Merseyside's Flood Risk Coordinator leading the FCERM Partnership and work with the Liverpool City Region, Laura returned to Lancashire.
Laura has been a vocal advocate for high quality, blue-green SuDS on developments for a number of years encouraging others across the North West region to utilise the planning system to best effect to deliver this, and to integrate SuDS with other aspects of development to maximise amenity and biodiversity benefits to communities and wildlife whilst also managing surface water flood risk sustainably. To this end, Laura has been involved with shaping the emerging new Non Statutory Technical Standards for SuDS as well as a number of other national projects to improve flood risk and planning as well as ordinary watercourse regulation.
Over the last five years, and in addition to her work in Merseyside, Laura has worked on a number of regional projects for the North West's Regional Flood and Coastal Committee (RFCC) to deliver innovative products which make a real difference to managing flood risk, such as Committee's Business Plan, The Flood Hub website and the North West SuDS Pro-forma. Lancashire will be leading work on the behalf of the North West RFCC on Planning and Development over the course of the next three years.
Vikki Keeble
Vice Chair/Secretary
Vikki is the Sustainable Drainage Team Leader at Buckinghamshire County Council. Vikki joined the council in 2015, after the commencement of the LLFA's statutory consultee responsibilities. Vikki has helped shaped Councils' approach to the assessment of planning applications in relation surface water and SuDS. Vikki leads a small team that promotes the use of sustainable drainage across all scales of development and has assisted in the delivery of county-wide guidance documents for developers.
James Hitching
Treasurer
James is a Senior Sustainable Drainage Officer working for Northumberland County Council, having taking up this position in 2012. Within his role at the local authority James is heading up the Council's functions as Lead Local Flood Authority for planning applications as well as other roles and responsibilities dictated by the Flood and Water Management Act. Before working for the Council, James worked for the Environment Agency for five and a half years as a development and flood risk engineer. This involved auditing planning applications and analysing the flood risk posed to and from this potential developments from all sources of flooding. James also has a BSc Hons degree in Geography from Anglia Ruskin University.
Paul Maddison
Membership Co-ordinator
Paul has been the Flood Risk Manager for Wakefield District Council since 2012. His team is involved in all aspects of drainage and flood risk within the district including provision of advice on planning applications, flood investigations and working with partners to deliver schemes to reduce the risk of flooding.
Paul started his career with West Yorkshire County Council in 1980 as a trainee civil engineer. He then joined Wakefield following the abolition of the County Council in 1986. At Wakefield he was involved in the Council's programme of reclamation of former colliery sites and derelict land becoming involved in drainage and flood risk in 2006. He was originally involved in the design and construction of flood alleviation schemes moving onto all aspects of flood risk when he became team manager.
Glen Westmore
Communications Co-ordinator
Glen Westmore is the Flood Risk Planning and Consenting Team Leader in the Flood and Climate Resilience Team at Surrey County Council. An Environmental Engineer by training, he heads up the team assessing planning applications and providing SuDS design and retrofit advice across the county. As well as leading on the SuDS and Ordinary Watercourse agendas, Glen manages the Climate Change Adaptation programme for the county council.
Glen has been at SCC since 2015 but previously worked at West Sussex County Council covering climate change and LLFA duties, and at the Environment Agency as an Environmental Project Manager.
He leads on the ASA Newsletter so please contact him with any suggestions for future content to share across the organisation.
Neil Clarke
Communications Co-ordinator
Neil Clarke is the Sustainable Drainage Team Leader within the Flood and Water Management team at Kent County Council. Aside from undertaking reviews of major planning applications as part of the statutory duties assigned to the Lead Local Flood Authority Neil also project manages flood alleviation schemes which are designed to be fitted, in the main retrospectively, to alleviate issues of flooding associated with surface water.
Neil has been with KCC for 13 years starting in the Highway's Agreements team working on Section 38 and 278 schemes associated with new developments before moving to the FWM team in 2015 in association with the creation of the LLFA and their statutory duties.
Hilary Ellis
Events Co-ordinator
Hilary is the Flood Risk Manager at Cambridgeshire County Council and has worked at the authority since 2015. For 5 years Hilary was the Principal Drainage Officer, working to ensure the team promoted sustainable drainage for new developments and she also led the publication of the Council's first Flood and Water Supplementary Planning Document.
Having worked in flood risk management since 2009 across the public and private sector Hilary brings a wealth of experience to ASA. Prior to joining Cambridgeshire County Council she worked for the LLFA at Cheshire East Council and before that in the private sector preparing flood risk documentation to support planning applications.
Helen Renyard
Events Co-ordinator
Helen is a Senior Lead in the Flood & Development Management Team at Cumbria County Council.  The team are responsible for responding as statutory consultee within planning, investigating flooding and implementing flood reduction schemes.
Helen is an incorporated civil engineer with over 30 years experience in flood risk management, previously working for United Utilities, Environment Agency and Carlisle City Council.
Helen has worked for Cumbria County Council since 2012 and is currently project manager for the Cumbria Community Flood Resilience Innovation Programme, one of the 25 pioneering projects as part of the Flood and Coastal Resilience Innovation Programme managed by the Environment Agency which will run until 2027.
Chris Osborne
Events Co-ordinator
Chris is Inland Flood Risk Manager for Bournemouth, Christchurch & Poole Council (BCP). He leads a team responsible for exercising BCP's duties as Lead Local Flood Authority, including promotion of sustainable drainage, flood investigation, scheme and flood risk strategy development.
Chris started his career at Dorset County Council in 2014 where he worked in all areas of LLFA delivery, including: land drainage consenting (& enforcement), flood investigation, responding to large scale planning applications and development of flood risk policy and guidance. He has a particular interest in ensuring that new development is sustainable, resilient and multifunctional, given the expected impacts of climate change.
Ray Drabble
External Relations
Ray Drabble is a BSc (Hons) graduate of The City University in Systems & Management. Following a 21 year career as an Officer in the Royal Navy, he studied Integrated Environmental Studies at The University of Southampton graduating with a MSc degree in 2002 focused on the marine and coastal environment; a ten year spell in this field was a logical next step. His involvement in mainstream flood risk management began at South Downs National Park Authority before commencing his current position in 2016 as Principal Engineer within West Sussex Lead Local Flood Authority. Ray is a strong advocate of effective central and local government policy underpinned by appropriate resources to deliver high quality development, resilient to flood risk and climate change. Ray sits on the Executive Board for the Association of Sustainable Drainage Authorities with a portfolio for external relations. He is a chartered member of the institute Water and Environmental Management.
Innes Thompson
Sitting Guest
Innes Thomson is the Chief Executive of ADA, the Association of Drainage Authorities, and a standing invited guest to the ASA Board. As a fellow membership services organization with closely similar objectives focusing on water and flood risk management, ADA provides administrative services and office support to ASA. Partnership working is a crucial component of success in managing water and the working connection between ADA and ASA brings together the breadth of interest in all forms of sustainable drainage on a catchment-wide basis. As a Civil Engineer, Innes has worked with water for virtually all of his professional career and is a keen supporter of the working linkage between ASA and ADA.
Vicky Boorman
External Relationships Lead